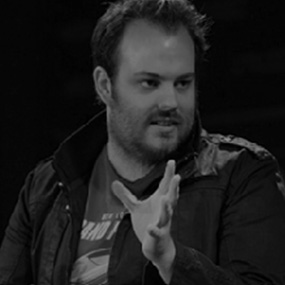 Caption
2014 Speaker
Phil Larsen
Tedx Talk | View Phil Larsen's TEDx talk here
Phil Larsen is a gamer and chief marketing officer focused on developing world class interactive content and most importantly, getting it into the hands of players. Through this commitment to creating the very best games for disruptive digital marketplaces, he has driven Aussie studio Halfbrick to international recognition with brands including Fruit Ninja and Jetpack Joyride. Collectively, Halfbrick games been downloaded over 750 million times worldwide.
He served as a judge for the ACMI Screen It festival and Academy of Interactive Arts & Sciences awards, and has spoken on game development and marketing at many conferences around the world including GDC, TechCrunch, ChinaJoy, and Mobile Games Forum in London. In 2013 he was selected as a representative for worldwide brand positioning campaigns as part of the Choose Brisbane initiative, and served as a member of the G20 Mobile Leader Summit in Beijing.
When he's not doing all that stuff, he tries to play more video games, watch TV and eat delicious food. That's precisely when he has time to marinate on ideas, gain inspiration and form strategies for making games successful in an incredibly competitive industry.