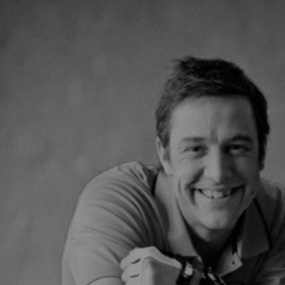 Caption
2014 Speaker
Samuel Johnson
website | http://loveyoursister.org/
Tedx Talk | View Samuel Johnson's TEDx talk here
Samuel Johnson has established himself as one of Australia's busiest actors and voice over artists. He has been working in television, film, theatre and radio for over 20 years, in shows such as the Secret Life of Us, Rush, Underbelly and Wilfred.
In addition to acting, in 2003 Samuel rode his unicycle 1003.4 kilometres between Sydney and Melbourne to raise $500,000 for CanTeen and has initiated a film making program for 'at risk' teens through Open Family, as featured in ABC's 'Australian Story'.
This year, Sam is riding his unicycle again, this time around Australia, with the goal being to keep his promise to his sister Connie that he would complete this ride, raise $1 million, set a new Guinness World Record for the most distance travelled on a unicycle AND spread Connie's message of breast cancer awareness. Through the Love Your Sister organisation, Sam has now completed his marathon and in doing so raised over $1.5 million dollars.
Samuel consulted all the experts, took none of their advice and set off on the challenge of a lifetime. He made a promise and through determination he kept it! He will be with us at TEDxQUT to share his experiences.
Website:
http://loveyoursister.org/