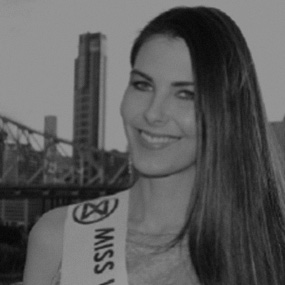 Caption
2014 Speaker
Stephanie Campbell
Stephanie is a public relations specialist, and Fitness Ambassador for the Centre for Healthy Brain Ageing (CHeBA), UNSW Australia. She is also the survivor of a horrific skydiving accident that occurred on March 16 this year.
Coming in to land on her 57th solo skydive at Toogoolawah in South-East Queensland, Stephanie's parachute collapsed high above the ground. She landed on her back, fracturing nine out of 12 vertebrae in her thoracic spine and sustaining many other serious, life-threatening injuries.
Against the odds and motivated by a desire to give back during her recovery, Stephanie has since won through to the National Finals of Miss World Australia, and used her story and profile to raise money and awareness for the not-for-profit organisations she supports.
Her cause-related marketing brainchild 'Climb for a Cause' will encourage at least 1000 people to book tickets to climb Brisbane's Story Bridge between Sun July 13 and Sat July 19 this year in order to raise at least $50,000 to help Variety Queensland and CHeBA advance the interests of Australia's two most vulnerable yet resilient generations – children and older Australians.
Stephanie studied Business majoring in Public Relations at QUT and is currently completing her Masters in Journalism through Charles Sturt University. She is also a qualified and experience English Language Teacher and a former photographic and runway model who has worked for successful designers including Australian fashion icon Alex Perry.
Apart from skydiving she has completed a certificate course in paragliding, had a flying lesson in a Cessna, participated in bungy jumping and rock climbing, and enjoys climbing the Glass House Mountains on the Sunshine Coast and bushwalking in Lamington National Park.